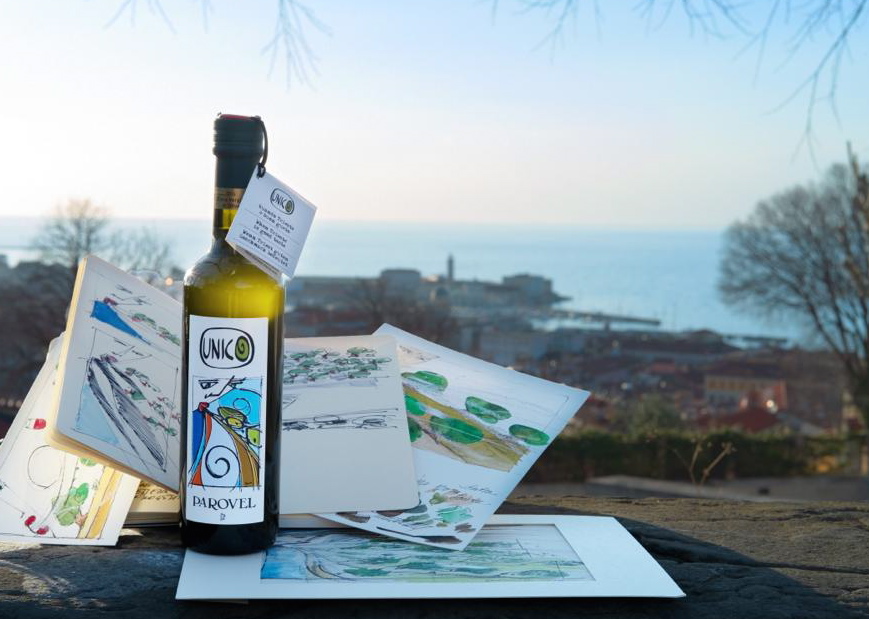 OLIO UNICO, an extra virgin olive oil for those who want to give or give themselves a souvenir of the good taste of Trieste.
A whiffle of creativity born of the pen of Maurizio Stagni, an artist from Trieste, who loves to draw the sea and the bora, and an exclusive Parovel olive oil.
The oil is UNICO, the labels stamped one by one are unrepeatable.
NAME: UNICO
LINE: Shops, gourmet retailers
CERTIFICATION: DOP Tergeste
CULTIVAR: Family selection
HARVESTING METHOD: By hand and with facilitators
HARVESTING PERIOD: 2022, November
OLIVE OIL MILL: Family-owned, oil press supervisor Euro Parovel
PRESSING METHOD: Continuous cold extraction by centrifugation
OLEIC ACIDITY: 0,23 %
MATURING: Stainless steel tanks with natural decanting; non filtered
VISUAL INSPECTION: Yellow-green colour, good fluidity, well-balanced intensity
OLFACTORY INSPECTION: Medium fruity, green with hint of grass, tomato and herbs
PALATE: Well balanced with a pleasant initial bitter, sweet and spicy of medium intensity, with field chicories, almond and tomato