We had the pleasure to host the promoters of the Docet Project at Parovel winery.
Docet is a project by Gianpaolo Lescovelli created to enhance and promote the wine world of the vast but at the same time little territory gathered around the Gulf of Trieste. Docet - in the words of its creator - listens to the stories of women and men, producers, artisans that over the years have been able to build true gastronomic treasures and it is a guide of a community linked to the sense of beauty and taste by organising tastings, events, presentations and wine introduction courses to provide the necessary tools to fully understand the characteristics and beauty of our land. Elena Parovel told our story and we quote the article in full so that you can read it again.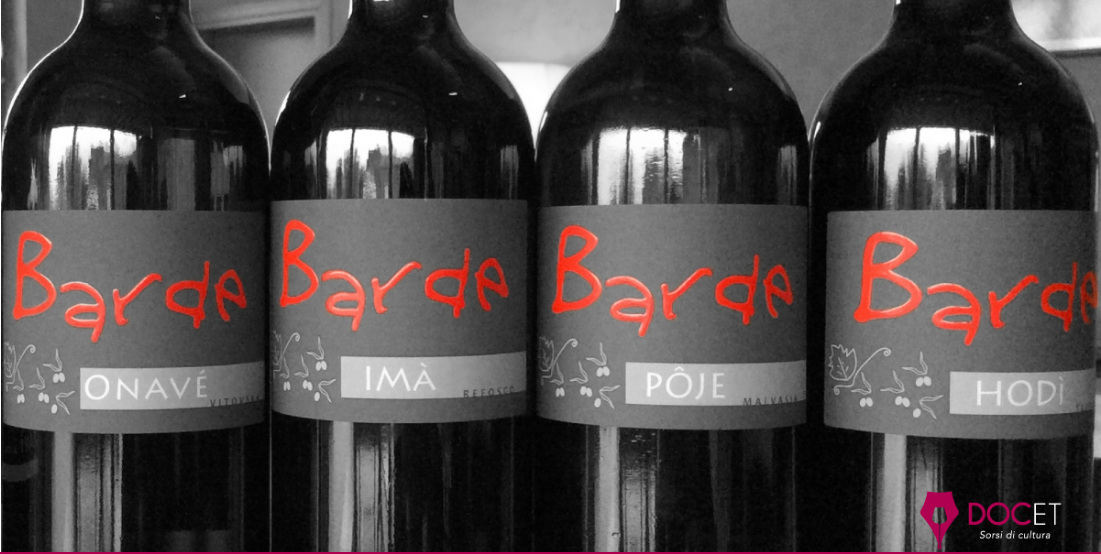 "In 1976 we were the first to bottle in the Karst region, along with Lupinc, and we have not stopped."
So says Elena Parovel, a proud woman of her work, her family, the wine that she produces together with her brother Euro, the maison winemaker.
We meet in the beautiful cellar-farm-osmiza in Bagnoli della Rosandra, built 15 years ago where once stood a riding horse school.
Elena how long have you been making wine?
"My family has always been living in this land and has always been devoted to agriculture, the production of olive oil, wine and pig breeding. Since 1898, four uninterrupted generations of farmers. My father worked in the port, but a herniated disc stopped him and forced him to devote himself entirely to viticulture. His efforts were rewarded in 1976 when we in Breg, and Lupinc in Prepotto, were the first to bottle the wine in the Karst region."
She shows me Parovel bottle number 1, slender, Rhine shaped, elegant French-style.
"For some fifteen years, thanks to the work of my brother Euro, we've been producing our flagship: the Barde line, name of our oldest vineyard, the vineyard of our heart."
We go down a beautiful spiral staircase and enter the cellar 6 meters below ground.
"We produce Malvasia, Terrano, Vitovska vinified in stainless steel. In Allier oak barrels and in Slavonian oak casks lie the Matos Nonet (a blend of Malvasia, Sauvignon Sémillon) and Refosco. Our vineyards are located overlooking the valley of the river Osp below the village of Caresana in a place called Barde. Right here our heart beats. We are lucky to have vineyards perfectly facing south south-west, the sun, therefore, is not lacking and the maturation of the grapes is complete. Our excellence is represented from these sun-kissed vineyards. With our fully ripe grapes we give expression to varieties that represent our land as the Vitovska, Malvasia, Glera, Refosco and Terrano. We continue to grow ithe old vines that remain of ancient vineyards such as Semillon, late harvest in early October, which gives the Matos Nonet a particular elegance."
While chatting we enter the tasting room, lovely spacious. The walls are red. Beautiful restored wooden tables decorate the room, we choose one in perfect deco style.
In short, tradition and innovation go hand in hand here?
"We strongly believe that wine must tell the territory, its history, its traditions and, at the same time, must look to the future and, therefore, put itself at stake and evolve."
Elena's passion is manifested in every word, there is much satisfaction in opening her bottles and serve with pride and love.
How do you work in the vineyard?
"Thanks to the excellent exposure of our vineyards and excellent ventilation we make very few treatments and, while not adhering to organic, we operate biological control using North algae. We always work in perfect respect of Nature."
Many your colleagues especially on the plateau are used to macerating their wines ...
"You feel the 5-degree difference between Breg and the Plateau! 5 degrees of average colder climate will never bring the grapes to ripen fully that it's easy to get here instead already in late August. To enhance the terroir we do not need to extract substances from the peel, we continue to make our wines in white as we've always made. I have nothing against a Vitovska or macerated Malvasia, it's a style, but it's not ours."
Elena is not going to stop and opens all the bottles of Barde line. The Visavì, Malvasia 10% Glera 90%, a not too exuberant wine but extremely pleasant, fresh and sincere as its name (obviously taken from French but written in Trieste's dialect); Onavè Vitovska, broad pear aroma with notes of jasmine and honey, Poje Malvasia, the oldest variety of the company, mineral and with great balance.
There comes also a charcuterie plate to remind us that during the summer this room for someday it will become an osmiza.
It is the turn of Matos Nonet (Istrian Malvasia, Sauvignon, Semillòn). White intense with warm and intriguing aromas that fascinate, Hodi Terrano and finally Imà Refosco that, after maturing in oak, rest five years in the bottle before release. A Refosco that we must wait for, full-bodied yet elegant and harmonious at the same time. Such an afternoon could not be concluded but with the bubbles. The fine perlage of Kamje, Charmat method based Malvasia is a sparkling wine perfect to toast to Elena, a "mula" (girl) enthusiastic about her job, her family and to the Barde wines she produces. Parovel is a company that listens to its past but defintely look to the future. Thanks Elena for the good time spent together and remember that sometimes you just need to take a picture away....
The wine is emotion.