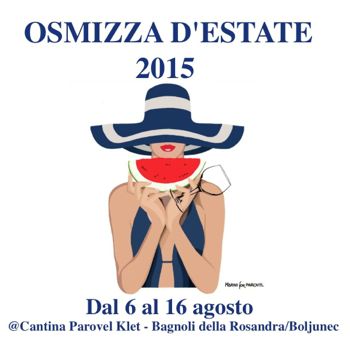 @ Parovel Winery - 624, Bagnoli della Rosandra / Boljunec
August 6 to 16

To enjoy life you have to nurture well both body and spirit with good food, good wine, culture and encounter. The Parovel Summer Osmiza awaits you with:

Saturday, August 8
AGOSTO MOGLIE MIA NON TI CONOSCO at 21:00
"The life of every individual, if we survey it as a whole and in general, and only lay stress upon its most significant features, is really always a tragedy, but gone through in detail, it has the character of a comedy." (A. Schopenhauer)
Perhaps it is precisely by this concept of the philosopher and German aphorist that Laura Bussani and Alessandro Mizzi got unknowingly inspired when they started to write their first "radio dramas of a couple" that in time became a "cult" of the evenings of Pupkin Kabarett. An evening full of good taste and elegance where a small portion of the most irreverent cabaret of Venezia Giulia will intersperse some of their most famous stories of couples with other characters and everyday stories accompanied by the amazing accordion of Stefano Bembi.
With their dramas they boast of having made many couples separate until then not undergoing a crisis.
Sunday, August 9
CALICI DI STELLE at 21:00
Traditional appointment to look at the sky together with Prof. Massimo Ramella from the Astronomical Observatory of Trieste, with the moon, the stars and the sax of Leonardo Ottaviani to accompany the talk on the Moon.

Saturday, August 15
FERRAGOSTO PASIONAL at 21:00
The winery by candlelight immersed in a dreamy and sensual atmosphere on the wings of a bandoneon in collaboration with the Association of Tango Ilegal FVG.


See you at the winery!

TIMETABLES:
Sat - Sun - Holidays 10:00 a.m. to 11:00 p.m.
other days 5:00 p.m. to 11:00 p.m.


info and reservations:
+39.346.759.0953
This email address is being protected from spambots. You need JavaScript enabled to view it.
Follow us on Facebook