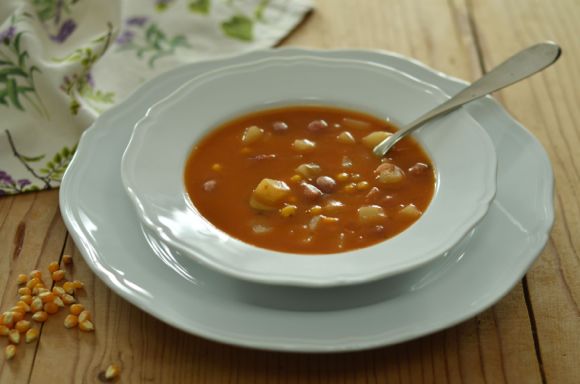 It reminds us the summer harvest of the corn dried in the sun. This creamy soup it's one of our typical autumn dishes.
Ingredients for 6/8 people
500 g dried beans
500 g dried corn
500 g potatoes
10 ml extra virgin oil Mackè
125 ml tomato puree
2 L vegetable broth
1 onion
salt
A few grammes of "labour" to steal a grape from the grapevine

Soak the beans overnight. Drain and boil them in plenty of water. Once cooked blend a half of it and keep the rest aside. Place the corn in a large pot (or pressure cooker) and add twice the volume of water. Cook for about 2 hours (or 45 minutes in a pressure cooker). Meanwhile, slice the onion thinly and fry it lightly in extra virgin olive oil Mackè. When the onion is translucent add 300 g of sliced potatoes. Let simmer, cover with water, add salt and cook for 20 minutes. After this time blend with an immersion blender. Put on the heat and add the beans and smoothie, the cooked corn, the tomato sauce, the vegetable broth and the remaining potatoes cut into cubes. Cook for 30 minutes, if necessary adjust salt before serving.