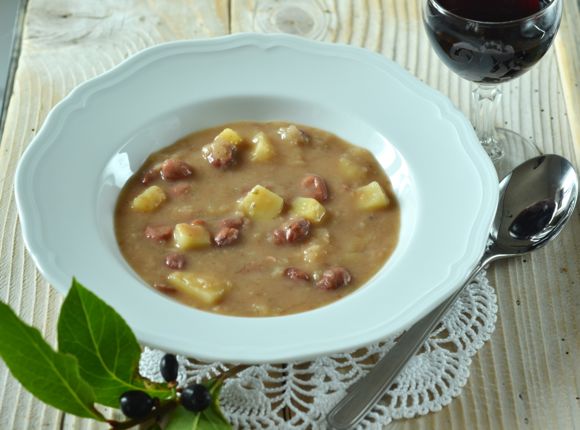 We eat it often and can't be missed at the grape harvest "likof" or toast once the work in the vineyards and winery cellar is over.
1 kg sauerkraut
1 kg dried beans
1 l vegetable broth
6 medium potatoes
1 white flour tablespoon
250 ml + 4 tablespoons extra virgin olive oil Mackè
1 onion
1 garlic clove
1 bay leaf
2 liters of pleasure in tasting the new oil
Soak the beans in cold water for 24 hours. Drain the beans, remove the water and cook until they are soft. Once cooked, set two tablespoons of beans aside and pass the rest through the mill. Place the sauerkraut in a large pot, cover with cold water, put on the heat and bring to a boil. Cook for 5 minutes. Drain the sauerkraut eliminating the cooking water. Cover the sauerkraut with cold water again, add 250 ml of extra virgin olive oil Mackè, a bay leaf , a clove of crushed garlic, salt and pepper. Bring to a boil and simmer for one hour. Prepare the disfrito: place two tablespoons of extra virgin olive oil Mackè in a nonstick pan and add a tablespoon of flour. Stir constantly with a wooden spoon and cook for 5-10 minutes, until the mixture has taken on a light brown color. At this point add ½ L of hot water, stirring well to avoid lumps. Set aside . Fry lightly the onion in two tablespoons of extra virgin olive oil. When the onion is translucent, add the potatoes cut into 4 slices. Add hot water just to cover the whole and cook until the potatoes are soft. Blend the mixture with a hand blender . Cut the remaining potatoes into cubes. Bring together in a large pot the disfrito, the potatoes cream, the beans smoothie and the diced potatoes. Add a liter of vegetable broth, bring to a boil and cook for 20 minutes. Add the sauerkraut and beans kept aside and boil for 10 minutes before serving.