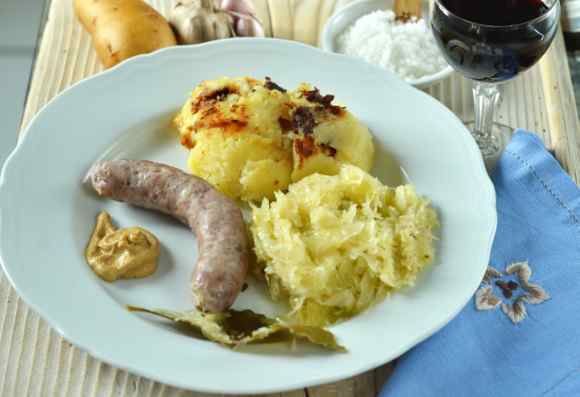 It's the Sunday meal by definition, the one Mum prepares after a long working week, we enjoy it together at her place.

Ingredients for 4/6 people
1 kg sauerkraut
10 medium red potatoes
6 fresh sausages
6 fresh sausages
1 big onion
½ L water
½ L white wine (Malvasia)
1 bay leaf
1 garlic clove
extra virgin olive oil Mackè
salt
pepper
50 g of good disposition to tell each other what the day was like
Place the sauerkraut in a large pot, cover with cold water, put on fire and bring to a boil. Cook for 5 minutes. Drain the sauerkraut eliminating the cooking water . Cover the sauerkraut with cold water again, add 250 ml of extra virgin olive oil Rozò, a bay leaf, a clove of crushed garlic, salt and pepper. Bring to a boil and leave simmering for an hour. Boil the potatoes in their skin in salted water. When cooked, peel the potatoes and cut them into slices. Cut the onion into slices and fry it lightly in a pan with a few tablespoons of extra virgin olive oil Mackè . When the onion is well browned, add the potatoes crushing them with a fork. Sear the potatoes, turning them occasionally for 10-15 minutes, until they form a delicious crust. Place ½ L of water in a large saucepan together with an equal amount of white wine ( preferably Malvasia Mackè), bring to a boil, dip the sausages, cover and simmer for 20 minutes. Serve the sausages accompanied with potatoes and sauerkraut.