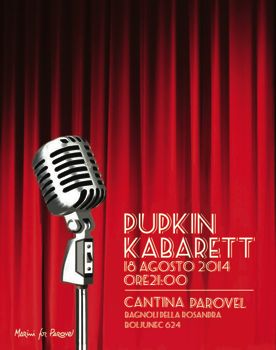 The most pleasing adventures can happen when least expected. (Italo Svevo)

What's more enjoyable than a cabaret evening in the splendid Rosandra Valley, among olive trees, vines and good music?
The Pupkin Kabarett returns on time as remorse a year away with an evening prepared ad hoc for healthy people who willingly stays in the winery. You will meet the Chinese lady from Karst with its new stories, monologues on the edge of reality, compulsive readers of the local daily Il Piccolo, tasters with peculiar fine palate and improbable border's poets dividing the meditative holiday in Rosandra Valley with the greatest contemporary Middle- European writers. And do not miss a crackling Niente Band particularly Balcanic for the occasion. If any of you exaggerate tasting the wines of the winery he'll be taken home directly from the accordionist of the group. The important thing is to be able to say: I was there!
During the evening a special guest will be presented to the public: the star of the evening Visavì the new unique product by Parovel Winery.
Entry with appetizer € 11.
The reservation is required for the Merenda Carsolina, which includes a seat at the table.
The seats for the show (in front of the stage) are not bookable.
For more information: +39.346.759.0953 | This email address is being protected from spambots. You need JavaScript enabled to view it. |