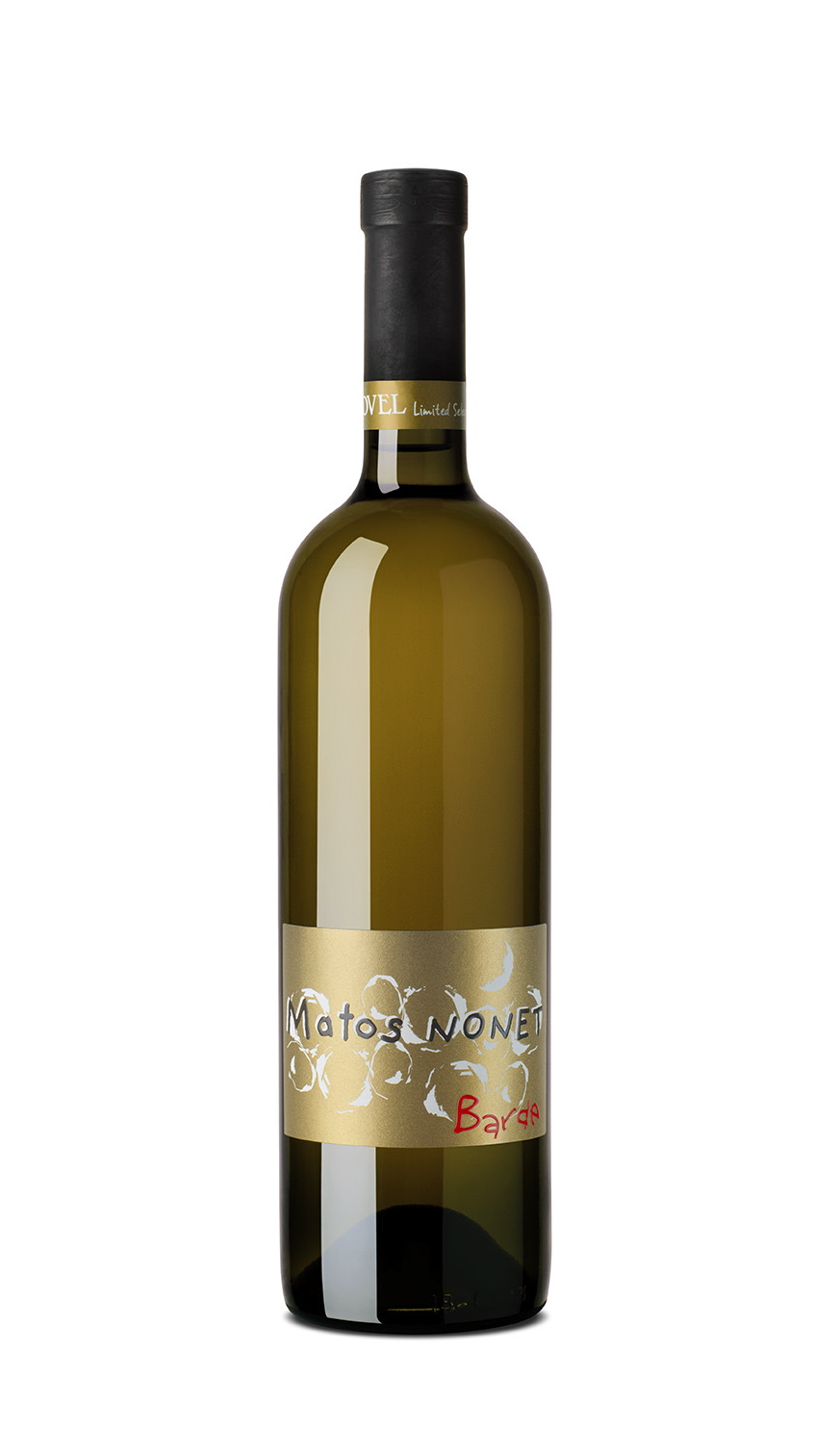 Blend of grapes Istrian Malvasia, Sauvignon and Sémillon.
Sémillon is an important grape from the South West of France. It probably arrived in Italy along with Napoleon's troops. Its golden variety can provide deep aromas through taste and longevity. It's highly susceptible to Botrytis cinerea, noble mildew, which concentrates the sugars of the fruit, donating a particular body and an incredible complexity. Sémillon is often used in assemblies with dry white Sauvignon Blanc, its companion for wines that reach excellent aging.
It's deep golden color with a complex nose and a great personality. It has beautiful aromas of mint, beeswax and dried fruit. The mouth is evolved and stays fresh with a nice flavor of almond cream and a final orange zest. Excellent with aged cheeses, it also goes well with seafood, game and pork.
MATOS NONET has in its name two moments of its birth: a "crazy (mato) wine" because original and eccentric with a final "s" recalling the contribution of Cabernet Sauvignon and Sémillion. While Nonet comes from the name of the nine male voices choir from the village of Caresana Mačkolje, very dear to our family, that welcomed its presentation in the Winery.
VARIETY: Malvasia istriana (60%), Sauvignon (30%), Sémillion (10%) coming from Carso DOC
CLIMATE: Mediterranean with continental influences
SOIL TYPE: Medium-texture sandstone with clay and limestone. Soil is rich in magnesium and iron
DISTRICT: San Dorligo della Valle - Dolina - Trieste - Italy
EXPOSURE: South west
YEAR OF PLANTING: 1950, 1999
HARVEST: Hand-harvested between the end of September and the beginning of October
AGEING POTENTIAL: 13/15 years
ALCOHOL: 13,5% vol
WINEMAKING: The three varieties are usually harvested in different steps in order to pick up and select the most mature grapes. the different varieties are immediately merged, then the fermentation began in stainless steel tank. After about 8 days under skin fermentation the whole mass is pressed and then moved to Slavonia and French barriques where the alcoholic fermentation ended. In the same barriques the malolactic fermentation is completely carried out and here the wine finned for 8/10 months. Finally it rested at least 18 months in bottle before trade.
APPEARANCE: Bright copper
NOSE: Open and evolved nose, fruity and opulent, revealing an evolved bouquet of honey aromas, fruit and maple syrup, dried fruits, nut; minerally persistent and played on the strength of Malvasia istriana and Sauvignon
PALATE: Fresh, dry and well defined mouth with medium volume; a finish almost salty that closes on a tannic vegetal note, original mineral note and a hint of saffron
PAIRING: Ideally served with seasoned and blue cheeses or fine fish