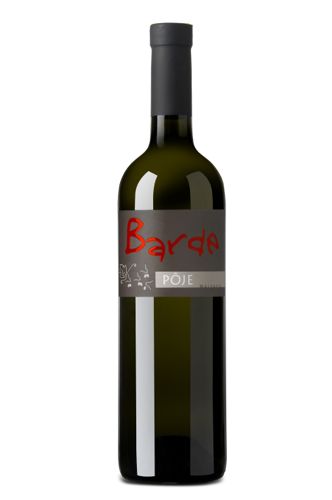 The Malvasia istriana is a native grape of the Carso-Karst wine area. Of ancient Greek origins, Malvasia has earned a place of particular importance. A quite adaptable vine, but highly grateful to the sun, it produces a fruity and slightly aromatic wine.
Pale yellow color, open and complex nose on the ripe tropical fruit, fresh flowers. The mouth is full and fresh centered on fruit and the thick cream. Final citrusy touch, harmonious and typical. The final is clean and long. To serve with cold cuts, fish, soups or white meat.
PÔJE comes from "ona poje" which in Slovenian means "she sings," because our Malvasia is a pleasantly load and very expressive wine, rich in melodious aroma.
---
TASTED BY Michael Garner for Decanter 2021 World Wine Awards, rated 93 points: smoky aromatics of lime, Brazil nut, melon and brioche, palate of gentle nectarine and a crisp acidity.

---
VARIETY: Malvasia istriana, native early ripening grape of the Northeast of Italy coming from Carso DOC
CLIMATE: Mediterranean climate with continental influences
SOIL TYPE: Marl-arenaceous, rich in Magnesium and iron
DISTRICT: San Dorligo della Valle - Dolina - Trieste - Italy
EXPOSURE: South west
YEAR OF PLANTING: 1975, 2000
HARVEST: Manual harvesting middle of September
AGEING POTENTIAL: 9/10 years
ALCOHOL: 12,5 % vol
WINEMAKING: On the arrival in the cellar, grapes are chilled before pressing to prserve their aromas. Fermentation occurs in stainless steel tanks under controlled temperature; the malolactic fermentation has not been developed and the wine has remained for 6/7 months to refine on the lees and from two to three years in the bottle
APPEARANCE: Intense straw yellow
NOSE: Intense, floral with pronounced nuances of Mediterranean spices, ripe exotic fruits and fresh flowers, light spicy vein of white pepper.
PALATE: Full palate, concentrated on fresh fruit with a creamy consistency, wrapped in a mineral and savory vein. Pleasant citrus closing, persistent and very long.
PAIRING: Match it with roasted fish, seafood, fried fish, tempura, white meat