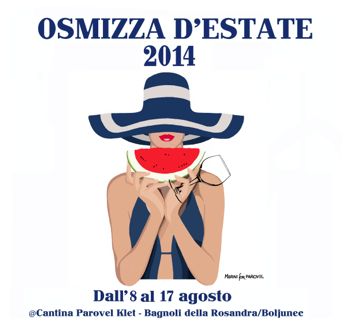 To refresh the minds in the hot days of August,
some evenings of the Osmiza will be dedicated to:
Sunday, August 10
LATIN SUNDAY AT THE OSMIZA
Enjoy the evening of the San Lorenzo with the company of Latin American warm notes from the 50s performed by instrumental group Siete Notas del Cha Cha
Friday, August 15
FERRAGOSTO PASIONAL
Persuasive and sensual atmosphere for the Mid-August Eve you do not expect. Come and visit us and you'll understand!
Saturday 16 and Sunday, August 17
VINCELTICA
The final two days of the Osmiza will be dedicated to the Celtic culture
in collaboration with the cultural association and amateur sports Liberi Briganti with historic encampment, archery contest and music with the bagpipes and drums of Siegel Senones.
Monday, August 18
Pupkin KABARETT
"Nightmare of a Midsummer Night - 4.0"
The most pleasing adventures can happen when least expected. (Italo Svevo)
The Pupkin Kabarett returns on time just like remorse a year away with a
evening prepared specifically for healthy people who willingly stays in the cellar, together with a crackling Niente Band and particularly Balkan.
See you in the Winery!
HOURS:
Sat - Sun - Holidays 10:00 to 23:00
other days 5:00 p.m. to 11:00 p.m.
For info and booking:
+39.346.759.0953 | This email address is being protected from spambots. You need JavaScript enabled to view it.